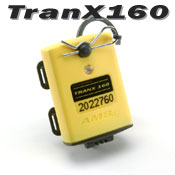 I've used my new AMB personal transponder at the first round of the Malaysian Rotax Max Challenge so I'm now able to share what added functionality you gain on MyLaps.com by owning your own transponder and the other benefits.
We're all familiar with the yellow transponders we get at race events to use with AMB's system for accurate timing and race results. Few drivers however are aware that they can purchase their own transponder to use. The transponder costs just under 200 Euro directly ordered from AMB. You get the transponder, a charger, and a transponder holder.
Once purchased all you need to do is charge it before a race and use it like you would the loaned transponder. Just remember to tell time control your transponder number. To get added functionality on MyLaps.com you simply have to register your transponder on MyLaps.
Once your transponder is registered on MyLaps.com anyone that browses race results from a race that you took part in will see a small icon next to your name and once they hover over the icon they can see your profile picture:

Clicking the profile picture opens up your personal profile page. You can update information in this profile such as personal details, pictures, and your profile image. Additionally visitors to your profile are able to leave you comments in a guestbook:

You are also able to quickly view all your results stored on MyLaps, and you can conveniently get to your results with a personalised MyLaps web address. My one is http://nassi.mylaps.com.

One of the greatest benefits of registering your transponder is that you are able to see every single lap of all your events, and you are also able to compare your laps to those in the same races as you:

For those that currently pay to rent a transponder at events, you'll save money with your personal one! Additionally you won't have to waste time on race day morning collecting your transponder from race control. While the others line-up for their transponders you can be double-check your kart.
KartingAsia.com in cooperation with AMB is giving away a transponder to our readers! Read this thread in the forums to know how you can win it.